Who does not want to provide every kind of comfort to their parents? Since childhood, our parents do everything to afford our daily expenses, and when it is our time- we do not want to leave anything. Unexpectedly one day, they are diagnosed with dementia. 
You are left to feel all sorts of emotions. A part of you is sad & nervous, and the other part wants to fulfill this responsibility well to ensure that your parents do not feel discomfort.
Dementia comes with various challenges. You have to tackle them to ensure maximum comfort for your loved ones. You have to arrange a caretaker who can stay 24/7 with your parents or maybe a senior community center where you can leave your parents so they won't feel isolated while you are away.
While you are tackling other problems, don't forget this one. According to a report, about 60% of dementia patients wander. They can go far from home and then lose their way back home. If they start panicking on the road and get in front of the vehicle, it could lead to deadly injuries and even death. 
While you can not always tag with your loved one, you can take the help of technology. The GPS trackers are your little best friends that can stay with your parents 24/7 and tell you where they are. So even if they wander, you can check the location coordinates and bring them back home safely. 
Here we have listed the best 5 GPS trackers to ensure safety of dementia patients. Check them out and choose one for you. 
Why Do You Need A GPS Tracker?
If you are wondering why you need the GPS tracker, then here are some reasons to justify this investment:
Wandering
According to a report, 60% of the dimension of patients wander. They can do so as a force of habit, agitation, boredom, or when they feel irritated due to hunger or something.
It is a matter of stress for the caregivers and their family members. Why? Because the patients can hurt themselves and can engage in road accidents. 
If you cannot restrict this behavior, you can ensure their safety with the help of a GPS tracker. You can monitor the real-time location activity and bring them back home safe and sound. 
Discover the best 5 real-time GPS trackers in the market here.
Freedom
Many elderly enjoy their freedom. You cannot just impose restrictions on it because of the disease. If they are in their early stage, they will protest against it.
You can let them enjoy their independence while ensuring their safety with the help of a GPS tracker. You can draw virtual fences over the map to get notified whenever they arrive or depart. You can also get alerts when they are late and get notified when they need help. 
Peace of Mind
Most of the time, caregivers spend worrying about their loved ones. They are willing to take any step that can ensure the safety of their loved ones. 
GPS tracker provides maximum security to your loved one and ensures your peace of mind. 
Active Lifestyle
Many doctors suggest patients with dementia or Alzheimers carry out an active lifestyle. 
You can also let your loved one enjoy their active lifestyle with the help of a GPS tracker. It allows you to set up virtual boundaries over the map, check their real-time location, or provide immediate assistance with the SOS button. 
Emergency aid
There are many times when you are not with your loved ones. But what if they suddenly need you or assistance? For example, in case of fire, fall, burglary, or accident. They can press the SOS button and call for immediate help to tackle the emergency. 
Best 5 GPS Trackers for Dementia Patients
#1
Family1st GPS Tracker
Buy from Family1st Buy from Amazon Buy from Ebay
Family1st is one of the most cost-effective and robust solutions out there. It can help you to get real-time location updates of your loved ones. It uses 4G cellular technology to deliver lightning-fast updates and is 10-times faster than any other GPS tracker that uses 3G networks. It provides coverage all over North America. So no matter where you or your parents are, you can always know their location coordinates.
Budget Friendly 
Family1st portable GPS tracker is one of the most affordable GPS trackers on the market. You are already taking care of medical bills and other expenses, and now you don't have to burden yourself with an expensive device. 
You only have to pay $24.95 to own the hardware. And $21.95 per month as monthly subscription fees. Apart from this, you will have to pay nothing extra- no activation or deactivation charges, no long-term contracts, no hidden fees, nothing. 
Indoor Assistance 
The device works seamlessly under the open sky. But what if your loved one enters the building while wandering? How will you be able to locate them? 
The Family1st uses Wi-Fi technology to provide an effortless indoor tracking facility. So you can assure their safety both outdoors and indoors. 
Portable GPS Tracker 
Who will love it if someone tries to interfere in their business? If you are going to tell your parents that this tracker is going to track them, they will not like it. But you cannot withdraw the idea of buying a GPS tracker as it will ensure their safety. 
In such a situation buying a portable GPS tracker such as Family1st is the solution for you. It is no bigger than a D-sized battery. You can securely place or attach it to the backpack or clothes without their knowledge. 
Customized alerts
When the patients are in their early stages, they like to go out and carry out their general lifestyle. In this situation, you don't want continuous updates whenever they go out. But only need notifications when they are late or in an unknown place.
With the help of Family 1st portable GPS tracker, you can customize alerts and only get notified for the events that matter. 
Geofencing 
Another feature of Family1st is geofencing. It allows you to create virtual fences over the map and get notified whenever your loved one enters or exits. 
Everyone loves freedom, and there are many places one would love to go, for example, a library, hospital, care center, or shopping mall. 
But every time, you cannot tag along. You have your own thing to do, and your parents would not like you to interfere in their personal space. 
In such a situation, geofencing helps you to enjoy peace of mind and know when your loved one arrives or leaves a place. 
Long Battery Life
Family 1st portable GPS tracker has long battery life. It can last up to 2 weeks with 1-minute location tracking. It means you don't have to worry about frequently charging the device. 
Product Highlights
Low device cost and subscription plan

No Contract, No cost activation, and deactivation

Lifetime Warranty on device

Coverage in the USA, Mexico, and Canada
Battery & Specs
Size: 2.8" x 1.8" x 1.1" 

Weight: 3.60 Oz 

Battery: 2400 mAh Li-Polymer 

Battery Type: Internal and Rechargeable 

2 weeks active battery life with 1-minute update 

6 months sleep mode battery life at one update per day
Price
$24.95+ $21.95(per month)
#2
AngelSense GPS Tracker 
Buy from Angel Sense Buy from Amazon   Buy from Ebay Buy from Walmart
AngelSense GPS tracker allows you to provide maximum safety and quality of life for your loved ones. Dementia and Alzheimer's comes with various challenges, and this is one of the safest and most reliable solutions for you to tackle those. 
It helps you to ensure the location and safety of your loved ones and provide them independence. While six out of 10 people with Alzheimer's or dementia wander and put their life at risk, it is one of the proactive solutions to locate them and bring them home before they get into trouble and hurt themselves.
Comfortable wearing
AngelSense is a small and stylish device that your loved one wouldn't mind attaching or hiding in the backpack. It has a comfortable and lightweight design, so they would take it voluntarily with them and won't even face any issues. Additionally, it is simple to use, so they can navigate through features or press the SoS button when needed without any difficulty. 
Assistive speakerphone
Another feature of the AngelSense GPS tracker is an assistive speakerphone. It helps you to stay connected to your family and be able to communicate with them when needed. It also comes with an auto-answer feature. It ensures that even if they don't pick up the phone, you can contact them. 
For example, if your loved one goes to the park and forgets their way back. Now they are left panicking on the road. But if they have an AngelSense smartwatch, they can press the SOS button and call for help. Meanwhile, you will be able to communicate with them and console them till help arrives.
SOS button 
Another helpful feature of AngelSense is the SOS button. It ensures that your loved ones can call for immediate help in emergencies. Whenever they will press the SOS but tell you and the others in the care given team will receive an alert with location coordinates, you can reach them and ensure their safety. 
With the help of SOS called direct, they will also be able to reach you directly by pressing the SOS button. So even if you don't notice the alert, you will still receive the call and know that your loved ones need you.
Fall detection
Fall detection is one of the other safety features that make AngelSense best for your loved one. When a person gets old, their body gets fragile. Even a small slip can cause serious injuries. 
With AngelSense, you can detect such falls and help your loved ones. Whether they are in the home or the park, you will get notified. And you can send immediate help to them. 
Product Highlights
Small and lightweight

Sensory-friendly

SOS button

2-way voice calling
Battery & Specs
Size: 2.4″ x 1.7″ x 0.63″

Weight: 1.4 Oz

Battery: NA

Battery type: NA

24 hours of active battery life
Price 
$69+ $52 (per month)
#3
Theora connect Smartwatch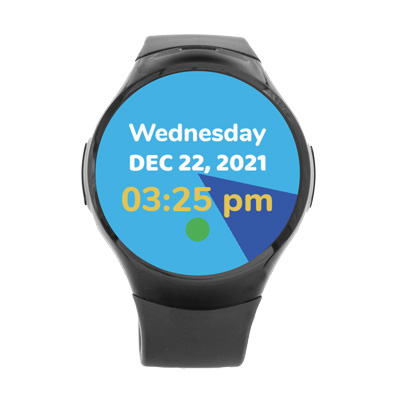 Theora connects, along with Theora link mobile application, is a complete solution to enter the safety of your loved one with dementia or Alzheimer's.
Theora connect is an all-purpose smartwatch to care for the needs of older adults. It provides peace of mind to the caregivers and ensures their safety.
Stylish Design
It is a light-wearing and stylish smartwatch that your loved one would love to wear without feeling uncomfortable. 
SOS Emergency Button
Theora Connect watch comes with an SOS emergency button. It connects the caregivers with their loved ones directly.
As soon as your parent presses the SOS button, you and others in the caregiving team will receive an alert and location coordinates. 
Magnetic Charging Station
The device comes with a magnetic charging station that enables easy charging. Your parents or loved ones can easily attach the device to the charge. 
It has a voice-activation feature that will assist them in charging the device.
Smartphone App
Theora Connect watch comes with an integrated smartphone application. It allows you to stay connected with loved ones and other caregivers. It enables you to access various features such as safe zones, SOS alerts, etc. 
Quick Connect
Theora link smartphone offers auto answering audio feature that enables you to communicate with recipients directly. It can be helpful when patients become confused or lost and unable to press the SOS button. 
Connected Family 
The mobile application allows you to create a care team. You can include the tested family members or friends to provide additional care to your loved one. 
Also, if you use two watches to track your parents, you can use the same mobile application to manage it. 
Product Highlights
Auto-answer audio feature

Dedicated customer support team

Integrated mobile application

Sleek and stylish design 
Battery And Specs
Band Length:

5.25-7.25 inches
Battery Life:

Up to 18-24 hours

Water Resistant:

Yes
Price
$179 + $29.95 (per month)
#4
Medical Guardian Freedom 2.0 Smartwatch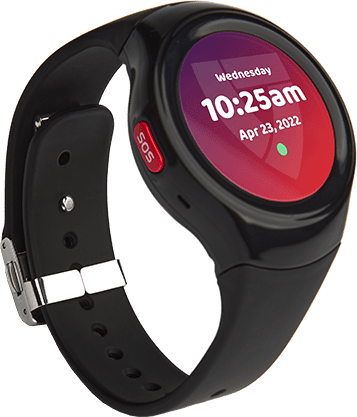 Buy from Medical guardian    Buy from Ebay Buy from Walmart
The medical guardian watch is another reliable GPS tracker on our list. It provides real-time location information about your parents and loved ones. 
It is the best choice for you if your parents love to follow an active lifestyle. 
Stay Active
People with dementia and Alzheimer's follow an active lifestyle. It is significant for their health and fitness, but you cannot let them go out without precautions. Several questions come into your mind- 
What if they forgot their way back home?

What is the need for immediate assistance? 

How will I locate them?
Well, the answer to all these questions is the MG smartwatch. It helps you determine the real-time location of your parents and ensure that they lead an active lifestyle. You can set and track their daily step goals and measure their weekly progress to ensure they are exercising enough for good health. 
Stay Organized
MG smartwatch tackles your location problem. And also helps your loved one to plan the day and stay on track with reminders. It also gives peace of mind that they will not forget to take their medicine or see the doctor for consultation. 
Help Button
Another feature of the medical guardian smartwatch is the help button. Your loved one can press the simple and accessible button to call for help in an emergency. 
It also has the cancel button, so they can press it if they have accidentally pressed the help button. 
Weather Information 
Another additional feature of the medical college smartwatch is weather information. 
Your loved ones can always check the weather before they go out to prepare for the worst ahead of time.
Product Highlights
Fall detection feature

Comfortable wearing

Pedometer

Alarms and reminders

Analog clock

Calendar alerts
Battery And Specs
Battery Life:

Up to 24 hours

Water Resistant:

Yes
Price
$199.95 + $39.95 (per month) 
#5
Jiobit GPS Tracker
Buy from Jibiot Buy from Amazon   Buy from Ebay Buy from Walmart
Jiobit is a small device that uses Bluetooth, Wi-Fi, cellular, and GPS to provide accurate location information. 
Smallest GPS tracker
One of the notable features of the Jiobit GPS tracker is its size. It is no bigger than an oreo cookie. So you can use it to enjoy discrete tracking. Some elderly do not want their children to interfere with their personal life and resist any GPS tracker. 
But as a child, you want to ensure that safety, especially if they are diagnosed with dimension or Alzheimer's. A small GPS tracker such as Jiobit can come in handy in such a situation. 
You can place this cookie-size GPS tracker in their backpack, pouch, or pocket or attach it to their clothes without their knowledge. In this way, you can enjoy real-time location tracking and ensure their safety without them noticing and misinterpreting it as interference with their personal life. 
911 Emergency Dispatch
One of the best features that make Jiobit a part of this list is 911 emergency dispatch. 
Jiobit with Noonlight creates a personal and automated security system with 911 emergency response. By activating the SOS mode, your care team can send the location details to a professional dispatcher who will send immediate help to your loved ones in an emergency. 
Care Team
Jiobit allows you to create a care member team to connect your family and friends. By having a care team, you can ensure that no matter if you are in the city or out for work, your parents can receive immediate help in an emergency. 
The members can download the mobile application and use the same credentials to access various features. You can also limit the permission as the account owner and add or remove anyone as you want.   
Trusted Places
Your parents would want to live without restriction, even in their old age or when diagnosed with dementia. You can allow them to enjoy their independence without disturbing your peace of mind with the trusted places feature of the Jiobit. 
The Jiobit allows you to mark tested places over the map to ensure your loved one is arriving and leaving.
Tracking History
You can also know the tracking history of your parents with the help of Jiobit. It helps you to ensure that your parents are going to the designated place and not getting lost in point c.
Product Highlights
Real-time tracking

Custom Geofences and Smart alerts

SOS mode, 911 emergency Dispatch

Can add trusted contacts
Battery and Specs
Size: 1.96" x 1.45" x 0.47"

Weight: 1.76 Oz

Battery: 

Battery Type: 1 Lithium Polymer batteries

7 Days with constant tracking
Price
$129.99 + $14.99 (per month)
Frequently Asked Questions
What are GPS trackers for dementia patients?
GPS trackers are devices that allow caregivers or family members to monitor the location of a dementia patient who may be at risk of wandering or getting lost. These devices use global positioning technology to track the person's location and send alerts if they leave a predefined safe zone.
Why do dementia patients need GPS trackers?
Dementia patients can become disoriented and wander off, putting themselves in danger. GPS trackers can help caregivers and family members locate them quickly and bring them back to safety.
What features should I look for in a GPS tracker for a dementia patient?
Look for a GPS tracker with real-time location tracking, long battery life, easy-to-use interface, and geofencing features. Some trackers may also have fall detection or emergency alert features.
Are there any monthly fees associated with using a GPS tracker for dementia patients?
Yes, most GPS trackers require a monthly subscription fee for the cellular data plan that allows them to transmit location data. Some devices may offer prepaid plans or annual subscriptions to save on costs.
Final Words 
A GPS tracking device is a worthwhile investment for you or any caretaker. A tracker helps you to track your loved ones and provide maximum safety along with independence. It saves you time and provides peace of mind by letting you know that your elderly are doing fine. 
Carson Rogers is a technology writer and reviewer. With over 5 years of experience in the industry, he has established himself as an expert in the technology niche. His passion for all things tech and his keen eye for detail enable him to provide thorough and insightful product reviews that help readers make informed decisions. Carson enjoys hiking in his free time when he's not busy reviewing the latest gadgets. His love for the outdoors also inspires him to write about tech gadgets that are useful and make life convenient.